When the same posture is maintained for long periods of time, as with sleeping, pressure builds up at the pressure points, which impedes blood circulation and causes discomfort and pain.
The SUIMIN MASTER owes its muscle-like cushioning properties to 3D-NET's three-layered structure. These characteristics provide soft comfort for areas of bony projections, while also providing firm support to large surface areas of the body, thus reducing hindrances to blood circulation caused by pressure points.

With the SUIMIN MASTER it is seen that blood circulation is maintained at a constant, normal level, with no hindrance to blood flow through the body.


Because the 3D-NET material being used in the SUIMIN MASTER is a net-like material, its ventilation properties are outstanding. In summertime, when you use it without a cover, it takes on the comfortable characteristics of a cool rush mat (goza), and doesn't get sticky with sweat.
On the other hand, in wintertime, when you use it with a cover placed over it, an inner layer of air is created, which then absorbs body heat for a lasting feeling of warmth..
| | |
| --- | --- |
| | |
| | You can wash the SUIMIN MASTER at home, similar to washing a screen door, by taking the contents out of the cover. Unlike wool or cotton, it dries quickly and can be washed frequently, in the same manner as laundering your clothes, so is easy to keep clean and fresh. |
| | |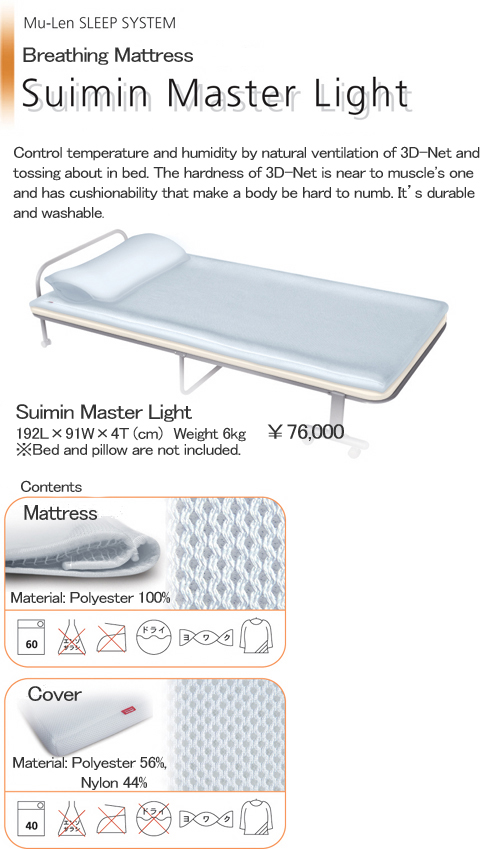 [Minimum volume]
The size you can hold under your arm. You can use it as a baby mattress or a cot in a hospital and also as a mattress for recreation.



Suimin Master Handsome
105L×70W×3T (cm) Weight 1.4kg

¥20,000